A Thessaloniki Anzac – Balwyn's Sister Dorothy Sevilla White
Recently I visited the impressive war memorial in Balwyn. It stands like a miniature cenotaph on the top of the hill which is surrounds the gardens which form Beckett Park in Melbourne's eastern suburb of Balwyn.According to the Monuments Australia website, the Balwyn War Memorial was unveiled by Brigadier-General Brand on the 24th May 1919. The monument at the time of the unveiling contained the names of 146 soldiers and two nurses.
The memorial contains the names of the residents of north war in the City of Camberwell who fought in World War One. The memorial contains a further dedication to those who served in World War Two, Malaya, Korea, Borneo and Vietnam.
One of those names is another Anzac connection to Greece – Sister Dorothy White.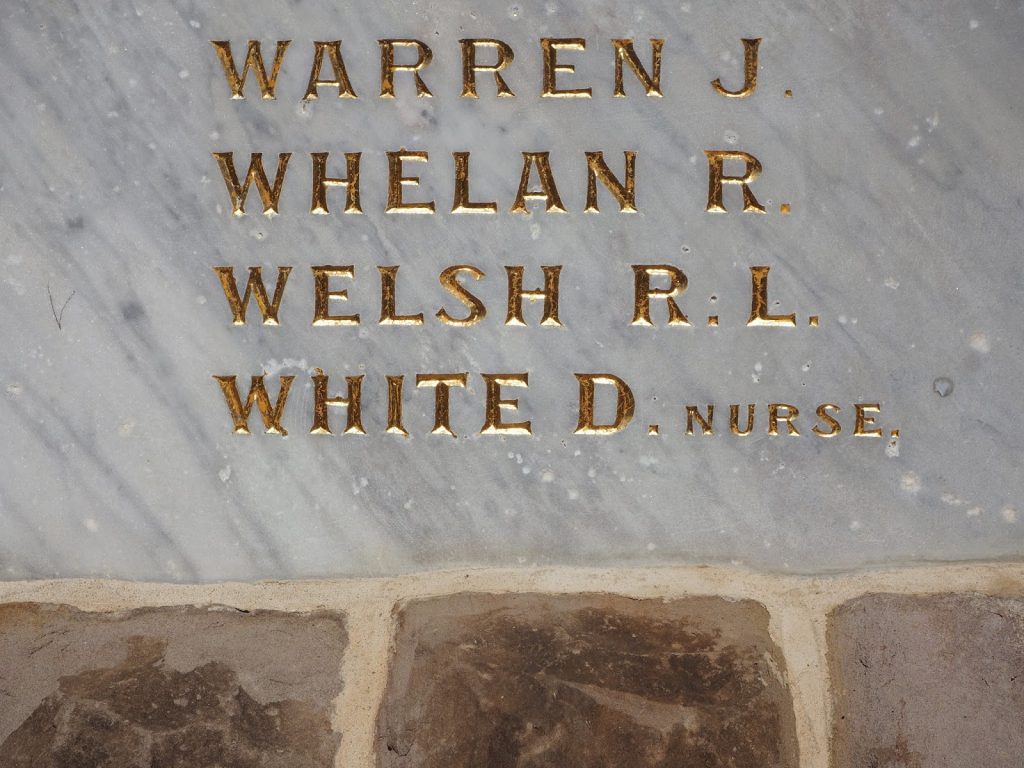 Dorothy White – Balwyn's Salonika (Thessaloniki) Nurse
Dorothy was born in Sydney on 20th January 1892. Research by Bill Richard states that:
"Dorothy was one of eight children, having 6 brothers and a sister. In the early 1900's Dorothy and her family moved to Waratah in Pembroke Road, Balwyn. Charles was a bank manager with the London Bank and the family attended St Barnabas Anglican Church in 86 Balwyn Road, Balwyn. 
Two of her brothers also enlisted. Charles White was the first of the White boys to enlist when, as a nineteen year old, he joined the 37th Battalion on 6 March 1916. Charles embarked on 3rd June 1916 on the HMAS Persic. He suffered a gunshot wound to his arm in 1917 and was Mentioned in Dispatches. He was promoted to the rank of Sergeant in the 38th Battalion and arrived home on 12 May 1919. Norman White was a 26 year old bank clerk when he enlisted as a gunner in the field artillery on 19 October 1916. He embarked on 11 May 1917 on the HMAS Shropshire. During his service in France, he was gassed and suffered wounds to the head and arms. Norman returned to Australia on 7 April 1919."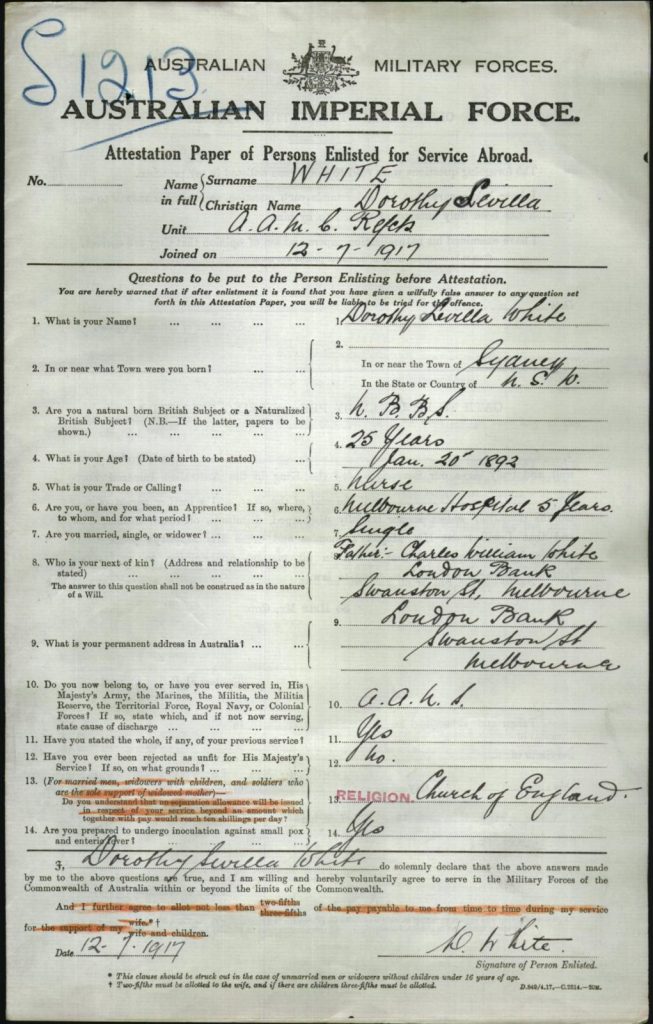 Dorothy gained her nursing training at Melbourne Hospital, completing 5 years of training. When she enlisted into the Australian Army Nursing Service on 12th July 1917 she was 25 years old and – as required by the Army – unmarried. She enlisted as a Staff Nurse, ending her Army career as a Sister.
She embarked from Sydney, Australia, aboard the HMAT Wiltshire (A18) on 31st August 1917. She sailed as part of a contingent of 52nurses mainly recruited from the 2nd Military District (New South Wales), led by Matron Beryl Campbell. After a period in Egypt, Dorothy disembarked from the transport shop Gorgon at the then named Salonika (modern day Thessaloniki) on the 22nd June 1918.
The Thessaloniki (Salonika) Front had been established in 1916 and would continue until the end of the wear in Eastern Mediterranean in October 1918. Dorothy and the other Australian soldiers and nurses who served here would serve as part of the British Salonika Force.
At Thessaloniki (Salonika), Dorothy served with the 50th, 42nd and 52nd British General Hospital. The 50th and 52nd Hospitals were located a Kalamaria, to the south east of Thessaloniki. The 42nd was also initially located here and then moved to Uchanta.
She did so as part of a large contingent of Australian nurses – more than served on Lemnos during the Gallipoli campaign – under the operational supervision of an Australian matron.
While on the Salonika Front, Dorothy's service history records periods of illness when she was admitted to some of the various British General Hospital's and Nurses Convalescent Camp, suffering from a range of illnesses including conjunctivitis and malaria in August, September and November 1918. Her illnesses stand testimony to the dreadful disease that be-deviled the troops who served here, especially malaria. She appears to have made a full recovery.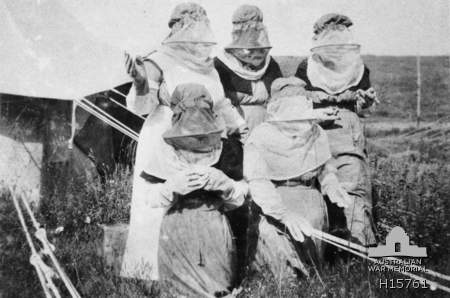 She sailed from Salonika's great harbour, beneath the impressive White Tower which still stands there, aboard the Dongala on 16th February 1919 bound for England. After a short period in England, Dorothy returned to Australia on the 28 September 1919 and was discharged on 15th April 1920.
By 1924, Dorothy was living at 315 Barkers Road East Kew. For her service, she was awarded the British War Medal and the Victory Medal.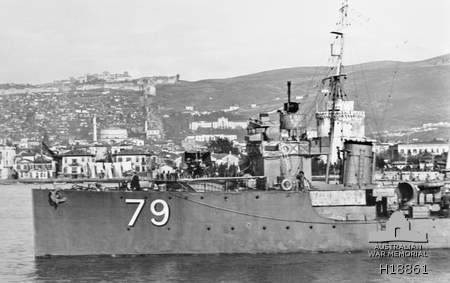 Her name is etched onto the Balwyn Memorial (above). She died and is buried in Maryborough Cemetery.
Remembering Thessaloniki's (Salonika's) Anzac Connection
Australia's participation in the Salonika Front is often overlooked.
Dorothy's service and the Balwyn War Memorial are a reminder of the Anzac connection to Greece through this campaign in World War One. Dorothy suffered illness during her service but thankfully she recovered. Such was not the fate of Ballarat Nurse Grace Munro who served with Dorothy, contracted malaria towards the end of the campaign and sadly died. She is buried at Thessaloniki's Mikra Commonwealth War Cemetery. Her medals are on display at the Ballarat RSL.
Lest we forget
Sources of information:
Attestation Paper of Dorothy White, National Archives of Australia;
Bill Pritchard, "Balwyn Families Touched by the War – The White Family", Balwyn Historical Society Newsletter, April 2011;
https://www.awm.gov.au/blog/2015/01/13/mettle-and-steel-aans-salonika/.
Jim Claven
Secretary
Lemnos Gallipoli Commemorative Committee