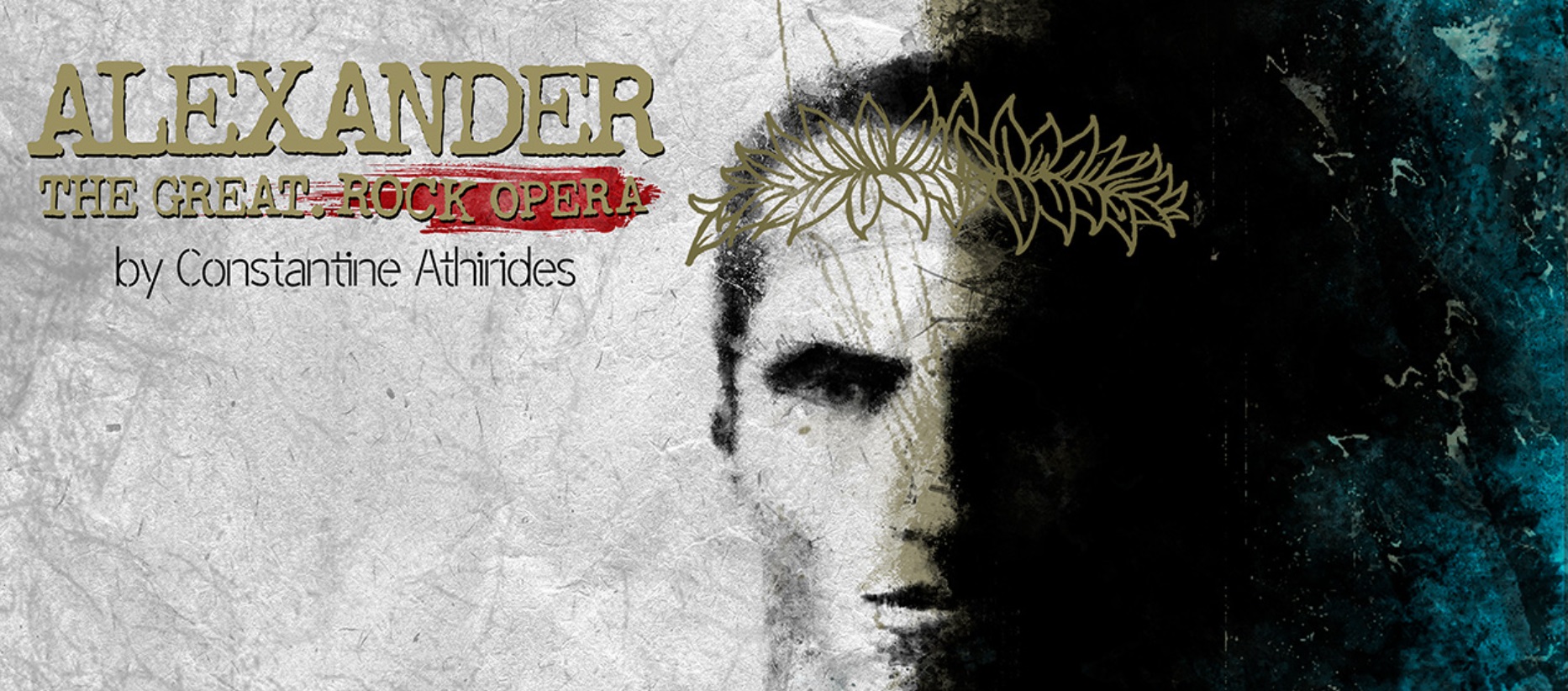 Alexander the Great Rock Opera is a new musical play by Greek composer and director Constantine Athirides. The play is staged in English, with supertitles. The production has a duration of two hours and fifteen minutes and consists of an eight to ten-member live orchestra and a cast of twenty six to twenty eight actors, dancers and singers.
The play was first produced by the National Theatre of Northern Greece (N.T.N.G.) and staged in the Royal Theatre of Thessaloniki on October 2014 and in the Athens Concert Hall on February 2015. It was played to sold out audiences who embraced the show wholeheartedly. The rave reviews by the critics praised the play for its historical integrity, but also for meeting high artistic and entertainment standards.
The story starts in the isle of Samothrace a year before the birth of Alexander, where his mother Olympias and the king of Macedonia Philip first met, follows Alexander's life and ends with his death in Babylon, 34 years later.
Who was really the man who changed the course of the Greek and world history and influenced the civilisation and culture of millions of people? How much do we really know about his life? There is no doubt! The incisive lyrics of Alexandra Charanis and the orchestrations and timbers of Constantine Athirides's outstanding music, attempt to communicate to the public, the great deeds of this historical personality, but most important, succeed in bringing us closer to the magic, the dream and the human side of Alexander the Great's legend.
Constantine Athirides was born and raised in Thessaloniki by a family who shared a special love for music. At the age of six he began to take piano lessons from the maestro of the State Orchestra of Northern Greece, Georgios Thimis. During his early adolescence, rock music won him over and for the next two decades he participated in numerous musical bands. During the 70's he acted regularly in school and student productions in Greece and England.
In 1976-1980 he attended seminars on acting and kinesiology in London, in parallel with his studies in Applied Economics. On his return in Greece in 1983, he became one of the founders of the Anatolia Alumni Drama Club, back then, the largest semi-professional drama group in Thessaloniki and participated in numerous plays, taking the opportunity to indulge in his two great passions: music and theater.
Between 1987 and 1996 he directed a number of ambitious productions:
Tommy (Royal Theatre, Thessaloniki, 1990)
Cats (Garden Theatre, Thessaloniki, 1992)
Tartuffe (Garden Theatre, Thessaloniki, 1994)
Jesus Christ Superstar (Garden Theatre, Thessaloniki, 1995)
He has taught kinesiology and translated theatrical plays from both the classical and contemporary repertoire (Molliere, Mamet).
As a member of the group "Gaia", he has worked as a composer with the singer and lyricist Georgia Velivasaki.
In 2012 he first produced and directed a first version of his rock opera "Alexander" to a libretto by Penny Turner.
In October 2014 in collaboration with a team of historians and lyricists headed by Alexandra Charanis, Constantine Athirides presents his new play "Alexander The Great. Rock Opera" produced by the National Theatre of Northern Greece.
D i s c o g r a p h y :
1998 cd Κrata Gera (participation)
2003 cd Sexual Instinct
2004 cd Sunnefa
2006 cd Se tono ble méditerranée
2008 cd Vradino Deltio
2009 cd Gaia/Action St
2011 cd Το Μikro Mustiko Tis Zois
2012, cd Κaterina Gogou/Pano Kato i Patision (participation)
2012 cd Alexander Rock Opera
2015 cd Alexander The Great Rock Opera (selected tracks)
Alexandra Charanis was born in New Jersey. She first came to Greece at age 14 when her father, Peter Charanis, Byzantine Historian, received a Guggenheim travel grant, and she fell in love with the country and its history.
She graduated from Mount Holyoke College and then the University of Michigan, with a Masters in Art History and a minor in Ancient History. She worked with the Smithsonian Institute Mosaic Project in Tunisia for six months, and then returned to Greece where in 1970 she began teaching at Anatolia College, Thessaloniki, Greece. While at Anatolia, she worked with the Drama Club and other theatrical activities, including writing short scenes for student performances. Alexander The Great Rock Opera is her first full length musical.
She has recently retired and continues to live in Thessaloniki, spending the summer months on her father's home island of Lemnos.
For More information please visit "Alexander the Great Rock Opera" online.