The Lemnos Connection to ANZAC
The Anzac events on both Lemnos and Athens were all very well attended
There were commemorative services at both Portianou Military Cemetery and East Moudros Cemetery.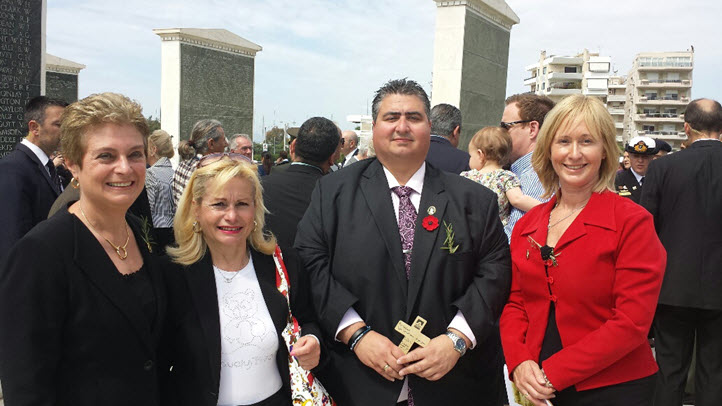 Various events were organised around the island including a key note address by Jim Claven and the Lemnos Gallipoli Photographic Exhibition. A highlight of the activities was the visit to Lemnos by the HMAS Success, an Australian ship. Christina Despoteris, Vice-President, represented the Thessaloniki Association and laid a wreath at the memorial at Moudros Habour on 20 April.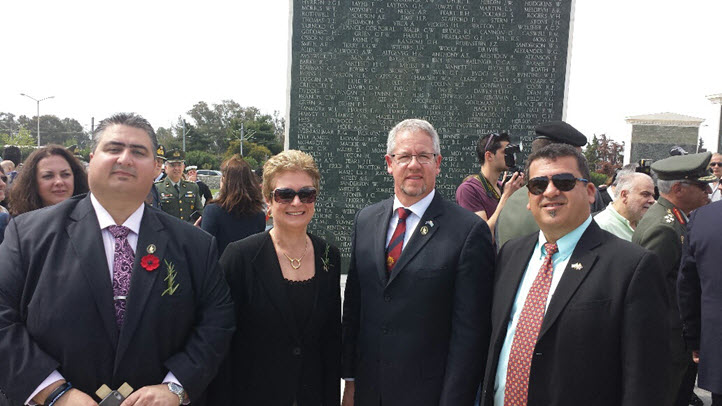 "The Lemnos Connection to Anzac" an event organised by the Lemnos Gallipoli Commemorative Committee on Anzac Day in Athens at the War Museum was a great success.. It was the first time that such an event was held in Athens. The auditorium of the museum was a sea of colour with representatives of the HMAS Success, representatives of the various military academies and of course many members of the public as well as the following official guests:
Mr Nikolaos Toskas, Deputy Minister of National Defence
His Excellency the Australain Ambassador, Mr John Griffin
His Excellency the British Ambassador, Mr John Kittmer
Mr Costas Cotsilinis, Honorary Consul General of New Zealand
Ms Julie Croteau, Charge d'Affaires, Embassy of Canada
Representatives of the Chiefs of the Hellenic National Defence General Staff –
ΓΕΕΘΑ, ΓΕΣ, ΓΕΝ, ΓΕΑ and the Hellenic Police
Bronwyn Halfpenny MP and The Hon Richard Dalla Riva MP
Representing the Victorian Parliament
John Pandazopoulos, President, World Hellenic Inter-Parliamentary Association
Captain Justin Jones and Officers and Sailors of Ship's Company, HMAS Success
Brigadier General Panayiotis Kaperonis, Director, War Museum of Athens
Vice Admiral Alexandros Theodosiou, Former Deputy Chief of Defence
Christina Despoteris was the host for the evening. Mr Nikolaos Toskas, Deputy Minister of Defence addressed the audience, followed by His Excellency the Australian Ambassador Mr John Griffin.
Mr Lee Tarlamis then welcomed guests and spoke about the LGCC and this was followed by the screening of a new documentary produced by Yiannis Korodimou the Manager of Cinema Archive of the museum especially for this event. The key note address was then given by Mr Jim Claven.
The event concluded with some presentations.
Lemnos Connection to ANZAC